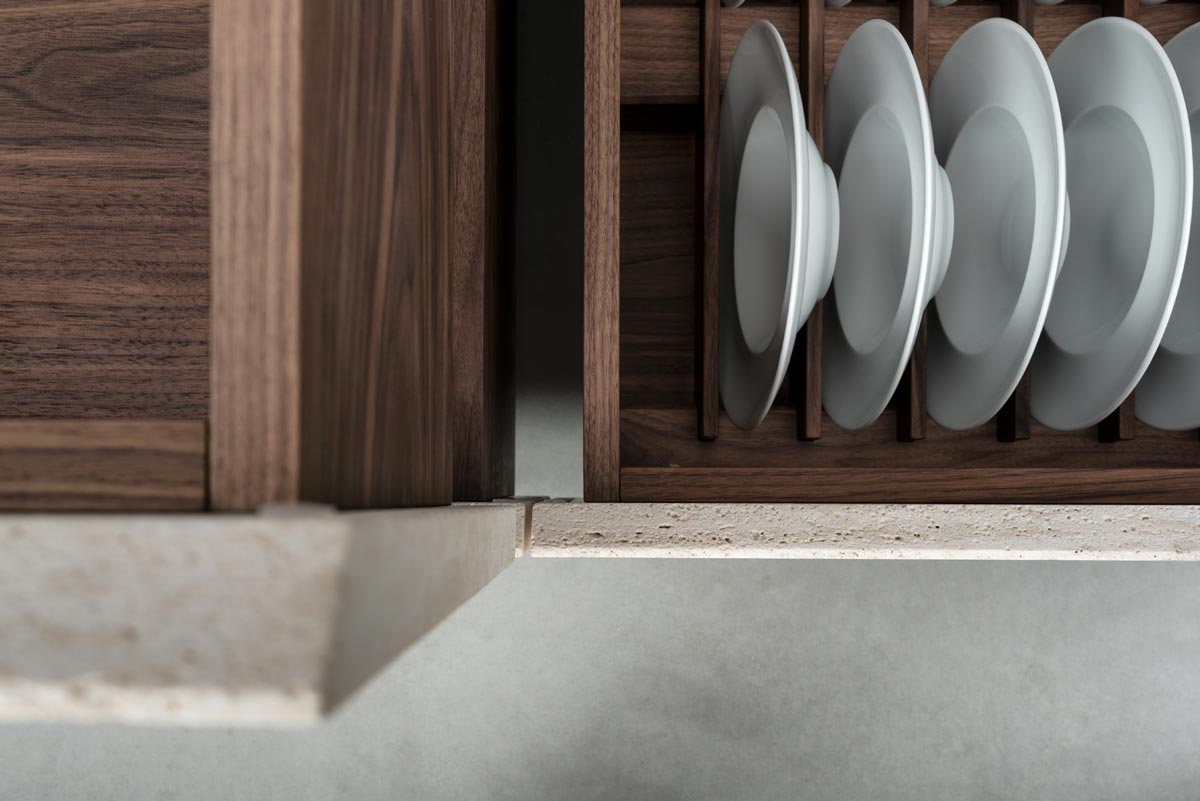 29 Jan

2010 – 2020, a Decade of Kitchens
Ten years of stone kitchens.
2020 coincided with the reaching of our first decade of experience in the world of custom kitchens.
That experience began in late 2009 with the prototype of the first OCO kitchen island, in Lava Stone, designed by Emanuel Gargano and Marco Williams Fagioli.
This first island was the response to the need to offer a stone kitchen that could guarantee acceptable weights, and which therefore can be installed on normal residential floors.
The first kitchen already had light doors, but the sink was still made from assembled slabs. The next step was to offer sinks carved out of solid stone, in order to create rounded corners that made cleaning easier and emphasized the monolithic look that continues to make our stone islands stand out.
The reconstruction of the slabs on doors and tops is another feature that has continued to be popular over the years, clearly evident when using Rapolano Travertine, but equally effective with other materials.
Of course our kitchens are not just islands; they also lend themselves to other solutions, such as wall kitchens with wall cupboards, or peninsulas.
Islands can also be in various shapes or sizes, such as a cubic kitchen.
Or reach considerable lengths.
Even though they are made of stone, the doors can also be oversized, like those in this island in Dorato Travertine, with doors having a length of 90 cm.
Over the years the collections have expanded; again from the mind of Emanuel Gargano and Marco Fagioli are the spartan stone and metal Sider collection, as well as the stately, monumental Impluvium.
We haven't forgotten about the outdoors. The collaboration with Irene Goldberg led to the iconic Chrysalis, which won the German Design Award 2020.
All these ideas, together with our experience, are completely at the service of the designer; a kitchen of ours is never the same as the one before it, and is not necessarily part of a collection.
Here are a few examples:
A beautiful double-sided kitchen in Noce RapolanoTravertine and Sorrento Walnut Wood with matching cabinets, designed by the architects Paola Favino and Guido Martini.
And an unusually proportioned island with a snack area in Bianco Rapolano Travertine.
Countless variations have been built and are possible; we give you the opportunity to provide us with new design and construction challenges.
To discover other ideas, see Kitchen & Co., our section dedicated to custom kitchens and more.